Innovative tehnologies for a rustic touch
this is a subtitle
In 2012, Vidrižu Atvari implemented an innovative production line for wood engraving using hot or cold pressure. Using this, we are able to imitate the damage caused by wood-borers or create a rough, aged texture in the wood without reducing its durability. At a client's request, both of these patterns can be combined. It is also possible to treat the surface with etching agents and oils, which would give the wood surface various tones, ranging from white to black.
The hot pressure method has a distinctive scorching effect which renders the surface smooth and creates impressions up to 3mm deep. On the other hand, the cold pressure method doesn't change the tone of the wood. It, instead, creates a rougher surface that contains impressions up to 1.5mm deep. The maximum width of boards that can be treated with these methods is 500mm, while the thickness can range from 30-350mm. Since we can adjust the depth or pressure, textures varying from slight to dramatic can be obtained. It is possible to age any type of wood.
This service is available for treating wall finish and floorboards, manufacturing furniture, and for aging solid beams and columns.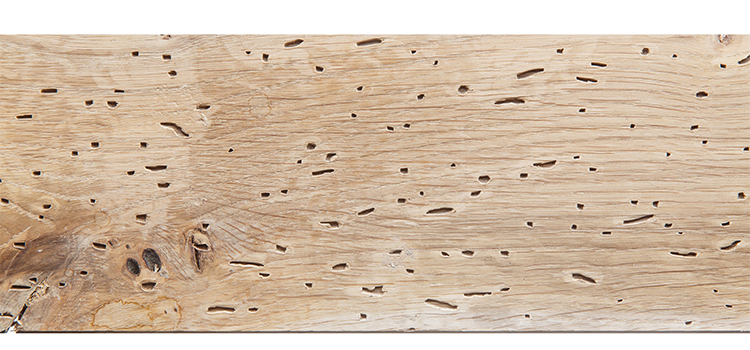 Wood-borer pattern
using cold pressure method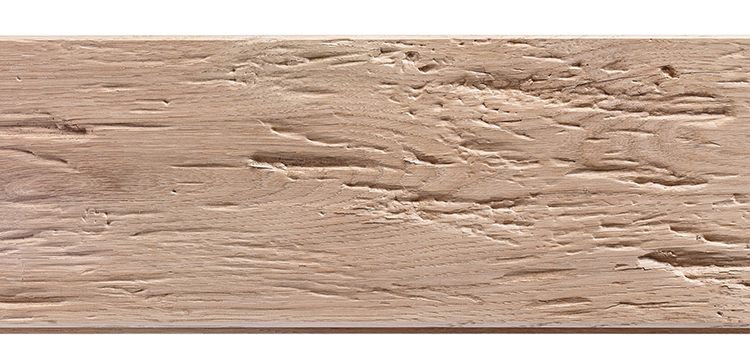 Aged pattern
using cold pressure method